6 Hatha Yoga Classes at Henry Ford Hospital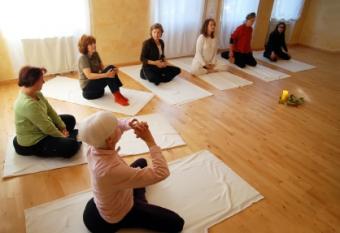 In West Bloomfield, Michigan, classes in hatha yoga at Henry Ford Hospital are one great example of how modern medicine can treat patients with more than medications and surgery. There are seven Henry Ford hospitals in the Detroit area, all of them offering superior medical care. At the West Bloomfield Henry Ford Hospital, yoga classes are taught several times a week. New to yoga? No worries-several different types of classes are offered so that you can attend the class that's perfect for your fitness level.
Henry Ford West Bloomfield Hospital
The entire group of Henry Ford hospitals is known across America as an excellent name in healthcare. From cancer to neurology, doctors and researchers at Henry Ford are making breakthroughs in medicine and patient care.
One special thing that Henry Ford Hospital in West Bloomfield offers patient care to aspects of life that many hospitals overlook. Traditionally, hospitals don't have the space or the personnel to help patients move around during their stay. But restorative movement can aid the healing process. At this hospital, classes such as yoga are offered daily. You don't have to be staying at the hospital to attend classes.
Yoga classes are offered because of yoga's extensive list of health benefits. This hospital recognizes that yoga is not just a form of exercise; yoga is also therapeutic, stress-relieving, and improves immune function-all benefits especially important to individuals with a temporary or chronic health condition.
Hatha Yoga at Henry Ford Hospital
Many different types of Hatha Yoga classes are offered at Henry Ford Hospital. You can visit the calendar of classes on the website of the hospital. Due to the small class size desired by the instructor, be sure to reserve a spot in the class you would like to attend so that you are guaranteed a spot.
There are several different yoga classes offered at Henry Ford Hospital:
Restorative Yoga: For reducing stress
Yoga for Wellness: To improve strength of both body and mind
Yoga of the Heart: Resources to help those with heart disease
Gentle Yoga: A slow-paced practice
Adaptive Yoga: Specially designed to cope with chronic illnesses
Yoga for Menopause: To gracefully work through menopause
In addition, private yoga sessions are offered for those interested in therapeutic yoga.
While all these classes are, to a certain extent, a form of Hatha Yoga (hatha yoga simply means the physical practice of yoga-doing asanas), the course called Adaptive Yoga is specially referred to as Hatha Yoga modified to the students' needs. After reading the descriptions of each course, you may know which form of Hatha Yoga at Henry Ford Hospital is the right one for you. If you are still in doubt, simply consult the instructor.
Instructor Julie Levinson
All classes at Henry Ford Hospital are led by instructor Julie Levinson, a registered yoga teacher (RYT). In this video interview with Julie Levinson, she talks a bit about the benefits of yoga and why they are especially important for all-around health. Leading yoga classes every day at the hospital, Ms. Levinson is committed to those who enter her classes and confident that regular yoga practice can improve quality of life whether you have a chronic illness or are in top form.
Perhaps more hospitals will be following the lead and introducing yoga practice into their hospitals. Henry Ford Hospital may be starting a trend with their yoga class offerings.